A short story that perhaps you can relate to or get some insights from:
I came 2008/2009 into an very old organization (40+ years old) after about 10 years of hard times with losing members and with that members fees, lost interest from sponsors, bad reputation of the name, few people attending meetings, previous board members that used all the money for personal benefits, people trying to split the organization etc.
I made a decision very early, I was there to create content to make the user group relevant in the future. Luckily there was other at the board that could take care of the boring stuff such as cutting costs, going through bylaws and just keep the members list up to date and make sure invoiced went out.
We had a very good relation with IBM locally and the first year we cancelled our yearly conference (two per year was done in the past) and made a half day in IBM facilities where mostly IBMers and business partners showed up. Previous conferences had cost us money we no longer had more or less..
The year after we arranged a two day conference with approx 80 people attending, again mainly IBMers, business partners and some old members that always showed up. On my initiative we ended the conference with a brainstorming session where one very important idea came up from one of the participants. "Why not make sessions that attracts developers?"
Back then, around 2009 – 2010 the agenda was mainly for hardware people including operating system management. We did, and the following year we invited Paul Tuohy, Susan Gantner and Jon Paris, with that we grew the number of participants to over 150 and more each year with a peak of 300+ attendees when we in 2016 hosted the Common Europe Congress which was seen as a huge success. Common Europe and many other organizations through out in Europe had similar issue like we had in Sweden after all.
We also produced a members magazine which I took control over. Another huge success was made especially I was lucky to know a person doing magazines for a living. We got really good attention from all around the world, and I always brought a number of them to the board of directors meeting for COMMON in North America for example.
The third thing I started was a monthly newsletter that had about 800 subscribers when I quit doing them in 2019. Short messages about what is going on in the community, news from IBM etc was the success factor. People really liked to read about their beloved platform that the outside word gave very little attention after all.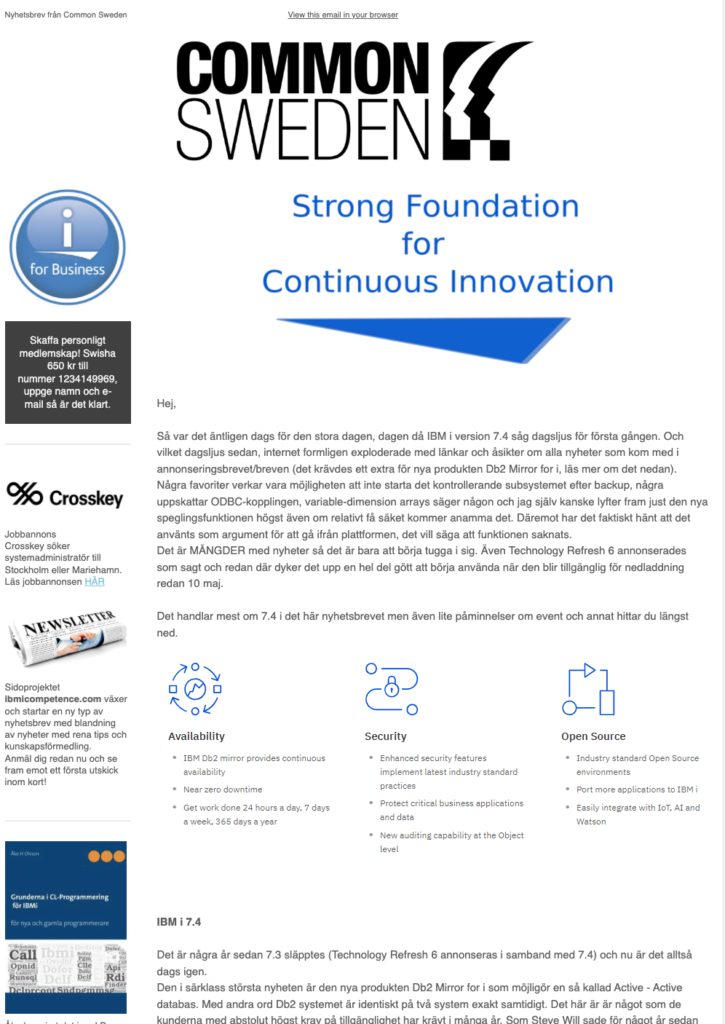 What would I like to say with this?
Keep an good relation with your local IBM people
Keep it simple. All initiatives are good initiatives.
Look around and see what resources you have available. Perhaps just starting a monthly newsletter or a Slack group for chatting is good enough to start with. Or just gather some people in a pub and brainstorm together.