It is different of course to arrange a small online event with just one speaker (Yourself perhaps) or a face to face conference with hundreds of participants. There are a number of things you need to do in both cases such as planning for it, marketing, registrations and perhaps follow up.
Anyway, here there will be two different parts with some overlapping. Again, please comment if there are things you are missing or if you have any other kind of feedback.
Events with one or a few speakers
This is quite easy nowadays, especially if you do the event online-based. You need a few things. An idea, and date and a plaform/place for the event.
Keep things simple and just do it. If you have skills yourself around a topic, just plan for it yourself and start inviting members. If you would like to have someone else speaking, reach out and decide for a date and time that works for both of you. Don't spend to much time figuring out which time is better than the other. Just go ahead and book it and change in worst case. To take holidays into consideration is a good idea though.. and don't forget if schools are closed etc.
What you need to arrange virtual event is:
An idea/topic
A speaker (could be yourself)
A date for the event
A registration page which is built into Zoom for example (or use Google Form)
a webinar platform such Zoom, Gotomeeting/Gotowebinar, Webex, Microsoft Teams.. (there are tons out there)
If you would like to do a face to face meeting instead you need also:
A place to be at. Can you borrow a room at your office after working hours? Or reach out to IBM locally if they can help out. Another option is to just find a good bar or restaurant. Sometimes they have meeting rooms or else you just find a corner of the place and do your stuff there.
The registration page could be done via Google Form for example.
Don't spend to much time on thinking and instead just do it!
Event planning with several speakers
This takes some more planning to be good. But again, the main thing is to have the idea, find speakers, decide for a day and time and start promoting it.
You could start with using Excel as a tool for the planning, but you should probably start looking at something else like Trello where you can work with others in a smooth way.
As you want to publish the agenda online, I would go with Sched.com. Why? Because this tools is used by COMMON and Common Europe and many speakers are already in their database (this blog post is focused on IBM Power user groups after all). It has the basic functions and as soon as a speaker has agreed to participate, the only thing you have to do is adding him with his email in Sched and voilá, his picture, bio and everything is there.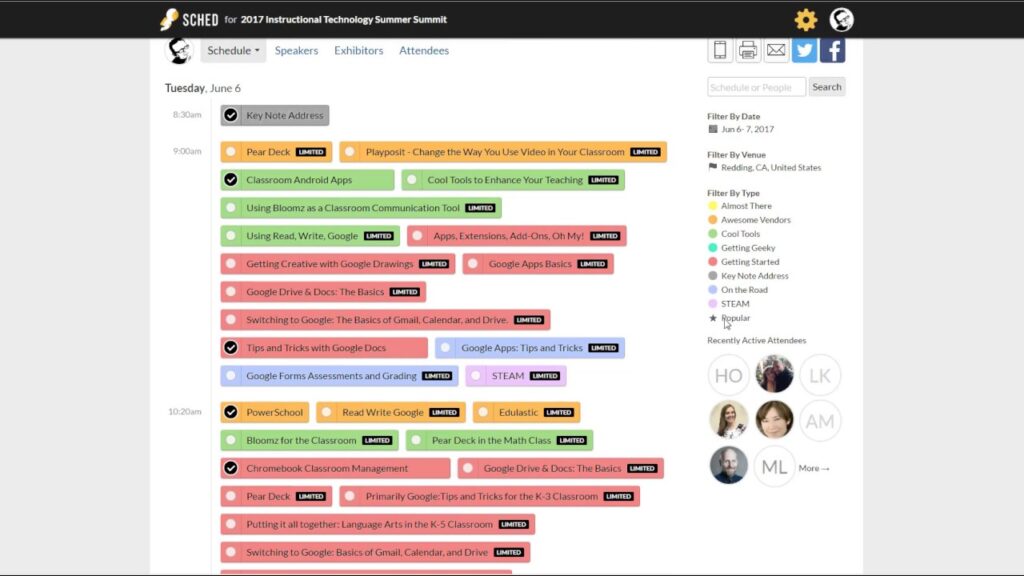 It is far from free though, so this depends on your budget and today there are tons of alternatives out there, check this article for example: https://www.g2.com/products/sched/competitors/alternatives
Please feel free and give feedback in the comments below