Yesterday (May 17th 2021) the Swedish user group for Infor M3 (and Movex) arranged a webinar with focus on IBM i for the first time in many years.
The message from the huge ERP vendor has shifted slightly from "Cloud only" to "you are ok if you run our software anywhere actually". This opens up for a lot of good things for the very strong M3 on IBM i community who until now has hasited to invest in infrastructure as the previous message was very clear from Infor. The problem with that message was that many of their clients didn't either want to go to any public cloud (Infor runs on AWS) or actually couldn't for a number of reasons (compliance is just one of them).
Anyway, back to today's webinar with the IBM i Chief Architect Steve Will doing the first part where the title was IBM i Anywhere, IBM i Everywhere – Strategy, Roadmap & Innovation.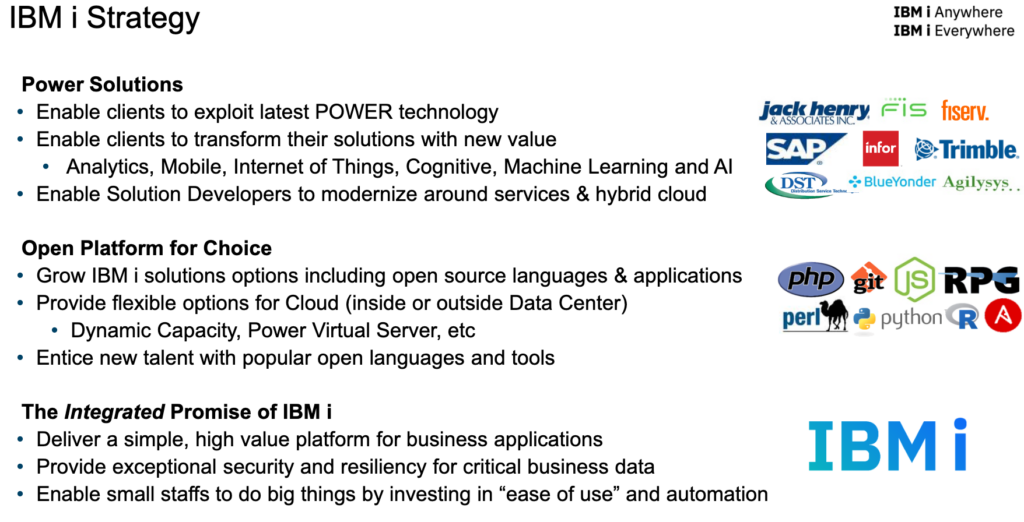 The message was very strong from IBM that they are very committed to IBM i and that the operating system has a long period of growth even during the pandemic. The future is also great due to its very innovative features and functions built into the system (code compiled once in the 1980's still runs on Power9 and will run on Power10 coming out later this year).
Right now the planned support for future versions is well into the 2030's. IBM just delivers according to their plans as they've always did..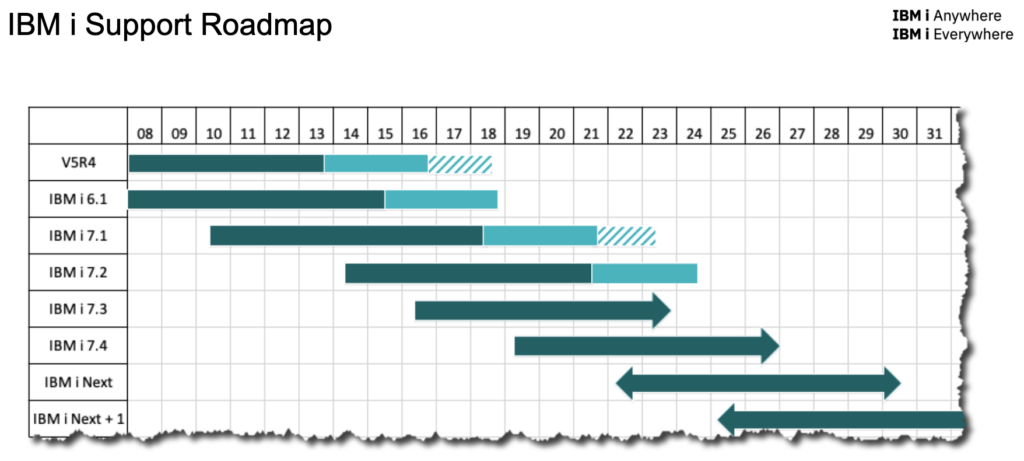 Steve Will also talked about how open IBM i is today compared to earlier versions of the operating system. Open Source has been a huge area of success for the platform, not at least due to all the runtimes, tools and frameworks that AI requires and IBM continues to port to IBM i. They are always listening to their customer base through the many different user groups and other channels to make sure they are investing in technologies that their customers are asking for.
The message was very clear – IBM i can do it!
Next after Steve Will, Mr Eddie Chaffin from ABP Food Group in the UK continued the presentation.
A short presentation first about ABP showed they are a very large organization with approximately £3 billion in revenue. With only about 140 persons in their IT-organizations (Five companies) tells me their choice of platform for M3 is a very cost effective one.
The technical description of their M3 environment shows they are running everything on just two Power8 S814 servers. Talking about cost effective..
Eddie gave the audience a number of tips and tricks for managing M3 with the help of ACS. Access Client Solutions is the best tool available for any kind of IBM i related management in general, but in this session there were some M3 related tips such as changing the heap size for performance purpose when it comes to navigating the IFS (M3 has a huge number of files / documents in IFS) and how to use built in Authority Collection for compliance reasons.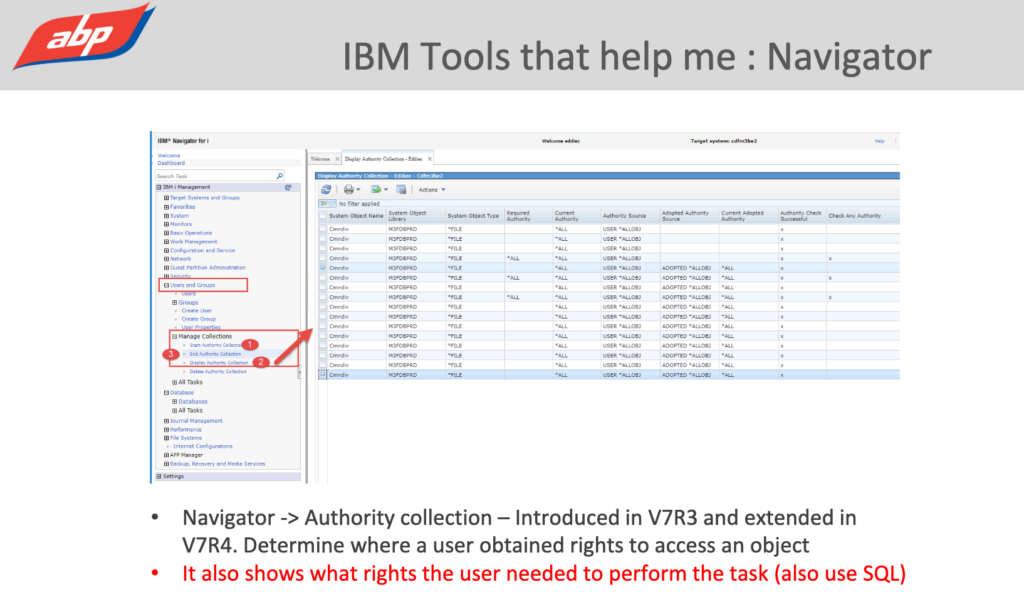 He gave many other tips regarding database performance, how to use SQL Scripts for collecting information that could take a day in the past etc.
The main thing in Eddie's presentation was their implementation of Row and Column Access Control – RCAC in their M3 environment.
This is a level of data security they need to avoid "Data Tourism" that their database was open for before. M3 has a very good security system in place for end users, but for people connecting via ODBC/JDBC it is not so good. Besides just the commercial risk with unauthorized people reading the data, GDPR Compliance is as well high priority for companies.
RCAC was implemented with the help of Infor and IBM LAB Services (Kent Milligan was the RCAC expert involved from IBM Rochester) and the solution is fully supported by Infor today.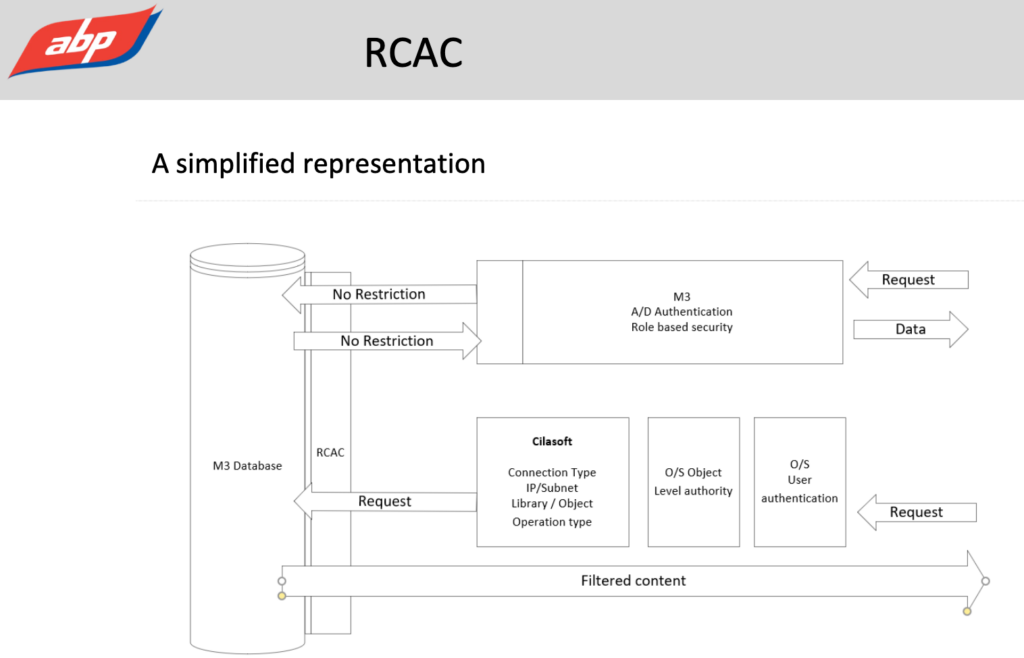 Overall the whole session today was a great success. The user group leader was very happy with the content and glad that IBM (that he work for in 1988 when the AS/400 was launched) welcomes IBM and ABP back in the future.
Full version of the presentation can be downloaded HERE
At the keyboard: Torbjörn Appehl